Music in the Garden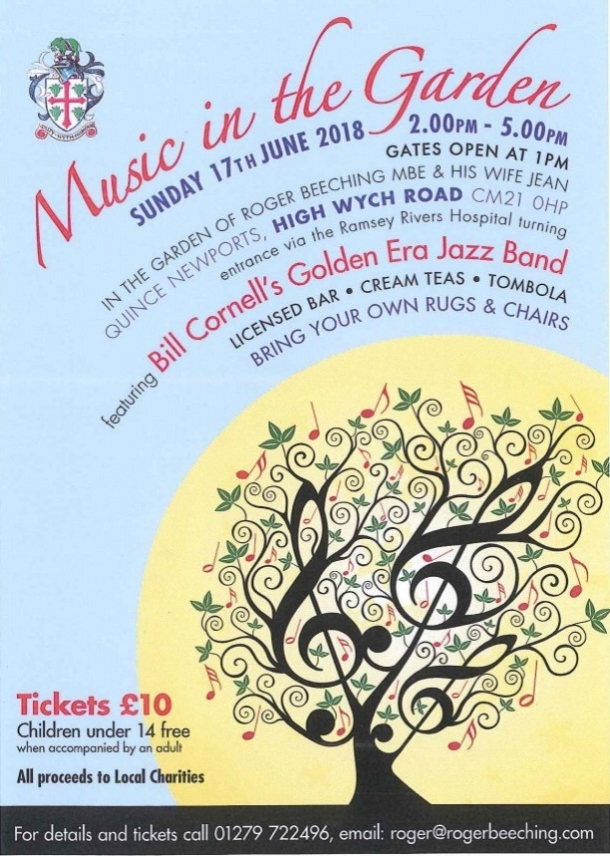 17

Jun

MUSIC IN THE GARDEN AT QUINCE

Once again we are holding our annual Music in the Garden event .This time on Sunday 17th June from 2.00pm until 5.00pm. It will be in the garden of our house at 4 Newports Sawbridgeworth CM21 0HP

Veteran drummer Bill Cornell and his Golden Era Jazz Band will once again be playing for our enjoyment.

There will be a licensed bar, for beer , including Old Speckled Hen at a very reasonable price, and wine and soft drinks.

Ladies from the Friends of the Jacobs and Gardens centres at Rivers Hospital will be providing their delicious cream teas. Should the weather be inclement or even the sun too hot there will be plenty of cover for you to shelter under. There will also be a tombola, and all proceeds from the afternoon will go to the Friends who are a registered charity. The money will help provide extra facilities to improve the quality of life of those less fortunate than us who have suffered life changing brain injury.

Over the years , 30 plus now, we averaged over £2000 each time for local charities. As this is the last time we will be holding this event(due to the aging process), let us make it a really good one for everyone concerned.

Tickets are £10 each children under 14 free, you can obtain these by phoning on 01279 722496 or by email to roger@rogerbeeching.com

I look forward to welcoming you to an afternoon of gentle music, some excellent sustenance , and a relaxing family time.