Sports & Leisure Facilities
Challenge Active Gym
Brookfield Industrial Estate, London Road, Spellbrook, Bishop's Stortford, Herts. CM23 4AU
Tel: 01279 503503
Sawbridgeworth Angling Society
Email: SASClub@gmail.com
Facebook: https://www.facebook.com/Sawbridgeworthas/
Sawbridgeworth Bowling Club
Secretary Basil Black
18 Heron Close, Sawbridgeworth, Herts CM21 OBB
Tel: 01279 726913
Email: basilblack@hotmail.com
Sawbridgeworth Cricket Club
Town Fields, Sawbridgeworth, Herts
(Access through Bell Street Car Park)
Tel:01279 722865
http://www.sawbridgeworthcc.hitscricket.com/
Sawbridgeworth Football Club
Crofters End, Sawbridgeworth, Herts. CM21 0DE
Chairman - Steve Day
Tel:07802233944
Email: sawbosec@hotmail.com
Sawbridgeworth Sports Association
President & Trustee - Nick F Heslop
Chairman - Philip Copland, 4 Gilders, Sawbridgeworth CM21 0EF Tel: 01279 723689
Hon Secretary - Stephen J Hyam, 6 Parkway, Sawbridgeworth, CM21 9NR Tel: 01279 724331
Hon Treasurer - Robert J Hoskins, 10 Wheatfiekds, Old Harlow CM17 0HW Tel: 01279 424726
Trustees DA Barley, K J Bovaird, JC Burlison
Sawbridgeworth Social Club
11 Station Road, Sawbridgeworth 01279 722310
Facilities include: 4 full size snooker tables, 5 dart boards, regular entertainment on stage and pool table. Snooker, darts and cribbage in local club leagues. Large lounge and fully stocked bar.
Family membership Available £21 per year. Pop in during opening hours or telephone for an application form.
Sawbridgeworth Tennis Club
Town Fields, Sawbridgeworth, Herts
Tel: 01279 722495
Email: nheslop@nhbarnett
Website: www.sawbridgeworthtennis.org.uk
Leventhorpe Pool & Gym
Cambridge Road, Sawbridgeworth, Herts. CM21 9BY
Tel: 01279 722490
Leventhorpe Leisure Centre
Cambridge Road, Sawbridgeworth, Herts, CM21 9BY
Tel: 01279 721310
http://www.leventhorpeleisure.co.uk/
Latest news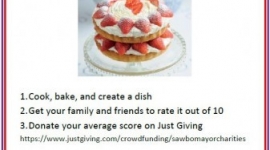 https://www.justgiving.com/crowdfunding/sawbomayorcharities..... Read More
Upcoming Events