Sawbo Santa Sleigh Ride
Santa Sleigh Ride - Guide to Timings & Locations
Santa Sleigh Ride Information Leaflet
Please follow our event on Facebook https://www.facebook.com/groups/2887855634769799
SATURDAY 12TH DECEMBER 2020 - APPROXIMATE TIMINGS WITH LOCATIONS:
Father Christmas will be setting off from an undisclosed location at 4.20pm and you will spot him first on High Wych Lane (near the Manor of Groves).

Turning left on High Wych Road and travelling to Pishiobury Drive via Hand Lane. We should be there around 4.30pm.

We will then head off to Redricks Lane and will turn around at the Thames Valley Water depot (4.45pm) and make our way back towards the town visiting Burnside, Gilders and Roseacres. From here we will turn right into West Road heading towards the roundabouts.

London Road heading towards Spellbrook – we will travel all the way to St James Way roundabout and do a return journey (5pm) towards the town.

Cutforth Road, Barnard Road, Bullfields, Northfield Road, Lawrence Avenue, Reedings Way, Lawrence Avenue (again!) Riverfield Lane back onto Bullfields towards Station Road.

(we will be in this area for around 15 minutes)

Knight Street, Fair Green, Fairway, Elmwood, Parkway (5.15pm – 5.35pm)

Vantorts Road heading to East Drive and around East Park.

Brook Road heading towards London Road. (5.35pm – 5.50pm)

Burnside (again!) to include The Crest, Gilders, Hoestock Road.

Bell Street to Sheering Mill Lane (Via Fairway 6pm)

Sheering Lower Road heading back towards the station.

Station Road (from the train station to mini roundabouts) (6.20pm)

West Road (6.30pm) out towards Crumps Farm.
Please allow 10 minutes either side of the times above as these are approximate and subject to traffic delays and accessibility – Father Christmas will try his hardest to keep on time and see you all. This is a draft document, the route is final. However, the timings above could change slightly upon review and in collaboration with Hertfordshire Constabulary.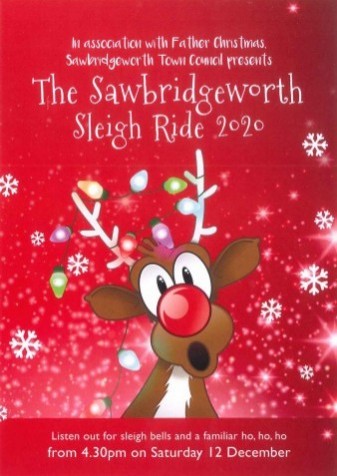 School Competition Entry Form - Please note this competition is open to children at Fawbert & Barnard (Sawbridgeworth), Reedings, Spellbrook, Mandeville and High Wych schools only.
Latest news
East Hertfordshire District Council is currently undergoing an electoral review by the Local Government Boundary Commission for England. Information on the...
Upcoming Events
28

Oct

19:00 at The Hailey Centre...
28

Oct

Upcoming community/family event: Coppicing at Pishiobury Park 10am-2pm Thursday 28/10/2021 Come and try this ancient woodland management technique, hosted by the Friends...