Sawbobus
Sawbridgeworth Town Council launched Sawbobus in November 2009 to replace the axed SW1, 2 & 3 services. This vital community service has proved popular with the town's residents and in 2015 provided over 22,000 passenger journeys.
The Town Council set up this service and receives grants from East Herts District Council, some councils in Essex and some commercial sponsors which help fund the service.
Our commercial sponsors have made financial contributions to support the running of Sawbobus.
Our current sponsors are –
Central Co-Op
Boyletts Law
Airdrome Cars
Oakridge Nursery
Matt's Autos
HD Racing

Top picture, left to right -
Jane, Budgens Assistant Store Manager, (previous sponsors)
Alison & Kim of Boyletts Law,
Stuart Dingle of Airdrome Cars and
Karol from Oakridge Nursery,
pictured with Christopher Hunt, Town Clerk of Sawbridgeworth.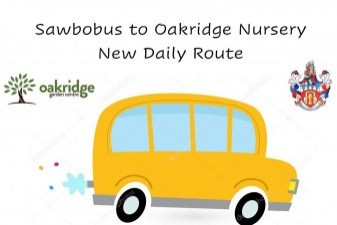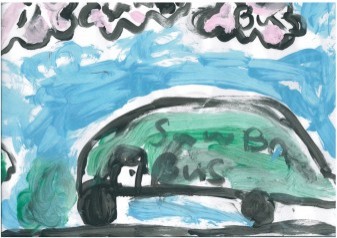 We have many lovely passengers on SawboBus and one of our youngest passengers has painted us a beautiful picture. Thank you Lucy, Aged 5 from Sawbridgeworth and her Nan for sending us the picture
Latest news
Passenger Notice There will be NO SAWBOBUS SERVICE on Bank Holiday Monday - 19th September 2022 due to the funeral of Her Majesty Queen Elizabeth II.…...
Upcoming Events