The Mayor
Cllr Annelise Furnace
Mayor of Sawbridgeworth
2020-2021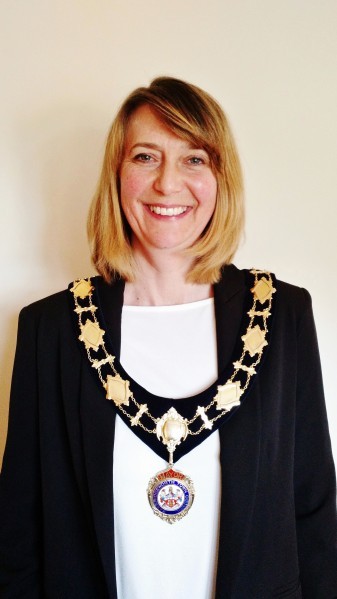 Bridging the Gap Activity Pack - You can collect an activity sheet from Budgens and the Tuck Shop (please ask at the counter) or you can download one here as below
Sawbo Super Hero Activity Sheet
Acrostic Poem on Sawbridgeworth
From Wednesday 9th September to Wednesday 23rd September cafes around the town will be selling cake and donating money to the Mayor's chosen charities - Who needs an excuse to eat cake!
You can find out more information by following the link below
https://justgiving.com/crowdfunding/sawbomayorcharities
If you would like the Mayor to attend an event that you are hosting then please let us know by contacting Laura Carter either in writing to:
Sawbridgeworth Town Council
Sayesbury Manor
Bell Street
Sawbridgeworth
Herts
CM21 9AN
or email: laura.carter@sawbridgeworth-tc.gov.uk

The Mayor's chosen charities for the year are Sawbridgeworth Scouts and Essex & Herts Air Ambulance
The election of the Mayor took place at the Annual Meeting of the Town Council on Monday 18 May 2020 (Via Zoom).
The Deputy Mayor for the year is Cllr Greg Rattey.
Latest news
The Sawbo Daily Mile can be done anytime between Monday 29 March to Sunday 11 April, walking, running, cycling or rolling, while adhering to current...
Upcoming Events