Annual Awards ~Community Champion & Charities of the Year
The Annual Civic Awards 2018 took place on Friday 11th May 2018.
The Rivers Hospital Community Champion Awards were presented first on the evening.
Community Champion of the Year 2018 was awarded to Jean Jones in recognition of her hard work and commitment to the Hailey Centre, where Jean volunteers. Jean devoted 30 hours a week of volunteering, cooking meals when the centre lost their full-time cook. Whilst the recruitment process was underway, Jean made sure that it was 'business as usual' and stepped in. Jean was on holiday on Friday 11th May when the awards were presented so Hailey Manager Sue Fitzwilliams accepted the trophy on her behalf, a second presentation was then made at the Hailey Centre on Wednesday 16th May. Rivers Hospital sponsor the Annual Awards and presented Jean with a cheque for £150 that Jean has donated to ARC Animal Rescue and Care in Bishop's Stortford. Congratulations Jean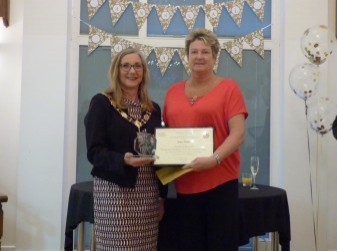 Cllr Ruth Buckmaster with Sue Fitzwilliams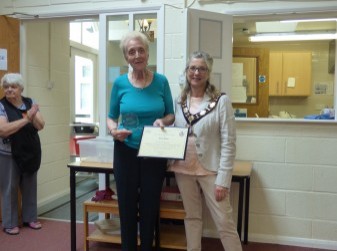 Jean Jones receiving her award on
16th May at the Hailey Centre
Young Community Champion of the Year was awarded to Perdita (Perdi) Squire of Leventhorpe School. Perdi was praised for her work both at school and in the community. Perdi is one of 12 girls in Hertfordshire Girlguiding who has been chosen to go on a trip to Uganda and work in an orphanage for the summer. In order to go on the trip Perdi has raised £2300 in various ways throughout the year; running a cake stall in school, selling gingerbread snowmen and making friendship bracelets at the Christmas Lights Switch-On event, packing bags in Asda, selling mistletoe and assisting the Rotary Club with Carols on Fair Green. Perdi has also volunteered for 3 years at Herts Hogline who are a volunteer, non funded charity. Perdi has educated young people about Hedgehog Rescue, by taking orphaned hedgehogs to Brownies and into schools to spread the message about the importance of looking after hedgehogs. In addition to all of this Perdi volunteers at the Sawbridgeworth 2nd Brownies. Rivers Hospital awarded a £150 cheque to Perdi for Herts Hogline Charity. Congratulations Perdi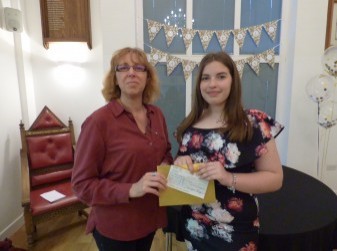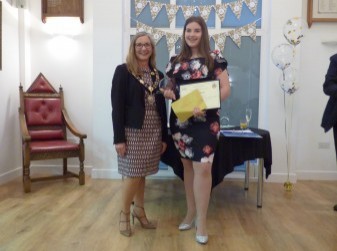 Lynne Garner from Herts Hogline with Perdi Cllr Ruth Buckmaster with Perdi
Gloria Cohen was Highly Commended for her contribution to the community of Sawbridgeworth. Gloria undertook the role of Treasurer at Sawbridgeworth Football Club over 5 years ago. She has completely transformed the administration of the club. Gloria not only keeps the accounts at the club, she serves tea and coffee, keeps the place neat and tidy and is known for her decorating skills! Gloria's expertise is essential at the club because it is crucial that good governance with data protection and regulations are strictly monitored and adhered to. Gloria is indispensable from a management viewpoint and is always a smiling friendly face at the club. Thank you so much Gloria and Congratulations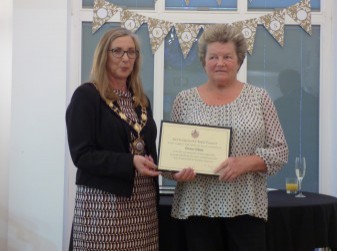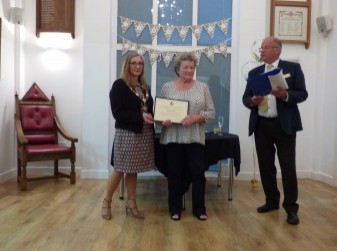 Cllr Ruth Buckmaster with Gloria for her Highly Commended award
Sadie Crocker was also Highly Commended for her 12 years of being the 1st Sawbridgeworth Rainbow Leader since 2006. Sadie has created a loving, caring, fun and exciting group where Sawbridgeworth girls aged 5-7 can grow and learn. Sadie is full of interesting ideas for the girls and takes them on a number of adventures, to develop their life skills and quite uniquely Sadie has created 'No Moaning on a Monday' at Rainbows. Additionally to her Rainbows, Sadie mentors new Girlguide leaders and she is instrumental in encouraging new leaders to take up the role. Sadie is secretary to the Girlguiding group meetings and she supports the smooth operation of running the mulled wine stall at the Christmas Lights Switch-On, which annually raises a huge amount of money. Congratulations Sadie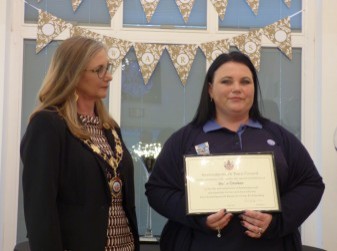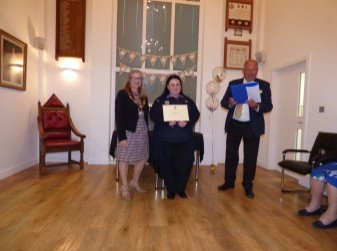 Cllr Ruth Buckmaster with Sadie Crocker
The second part of the evening was the presentation of cheques from the Mayor, Cllr Ruth Buckmaster to her chosen charities of the year. This year Ruth split her fundraising between two local charities with the emphasis being on families in the town. Make Lunch and the High Wych Pre School Nursery are both very worthy local groups who each received a cheque for £2,196.46. Both groups were overwhelmed with the amount of money raised and Ruth would like to thank all those that have supported her various events throughout the year.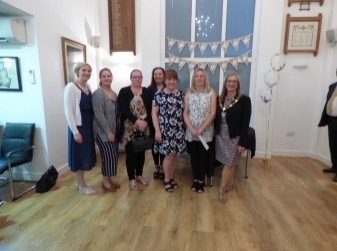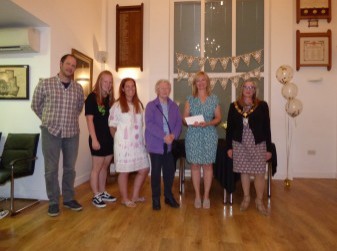 High Wych Pre School Nursery 'Make Lunch' Team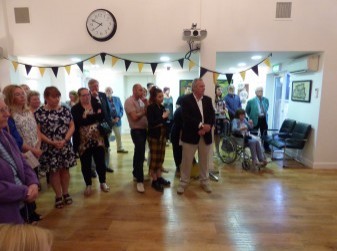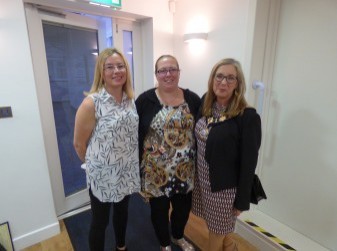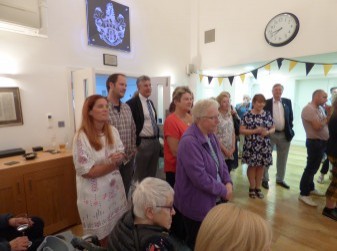 Latest news
There will be an extraordinary meeting of the Planning Committee on Monday 4th March at 7pm in the Council Chamber to..... Read More
Upcoming Events